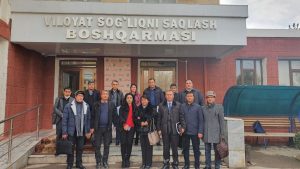 In order to ensure the implementation of the tasks set by the Decree of the President of the Republic of Uzbekistan dated November 10, 2020 №PK-4887 "On additional measures to ensure healthy nutrition" and order №305 of the Ministry of Healthcare of the Republic of Uzbekistan dated November 20, 2020, the employees of our department are actively involved in population surveys and anthropometry.
According to the information service of the Kashkadarya regional health department, at present more than half of the population of the Kashkadarya region have passed medical questionnaires and anthropometry. Of the 3,314,612 people in the region, more than 1,678,000 were covered by health questionnaires, which means that our health teams visited 321,265 (51.5%) of the existing 624,339 households and complied with health records. In particular, 68.4% of the population in Mirishkor district, 59.2% in Kasbinsky district and 56.6% in Kasan district of the region. The main goal of the event is to fill out medical questionnaires within 10 days, enter the relevant information into an electronic database and create "Health Profiles" for the regions. Of course, special attention is paid to the accuracy of all information about the memorandum. In the process of work, the staff of our department and our students establish an effective and fruitful dialogue among the population about a healthy lifestyle.
Recall that in the Kashkadarya region, there are only 1535 medical teams including 1088 doctors, 6295 nurses, as well as students, clinical residents (practicing doctors) registered in the oasis, studying at higher educational institutions, including the Tashkent Medical Academy. more than 120 of their trainers appear on the medical record. Also, additional teams have been formed from the medical centers of the regional center. Medical teams are fully equipped with the necessary weighing equipment, measuring tape, pulse oximeter, tonometer.